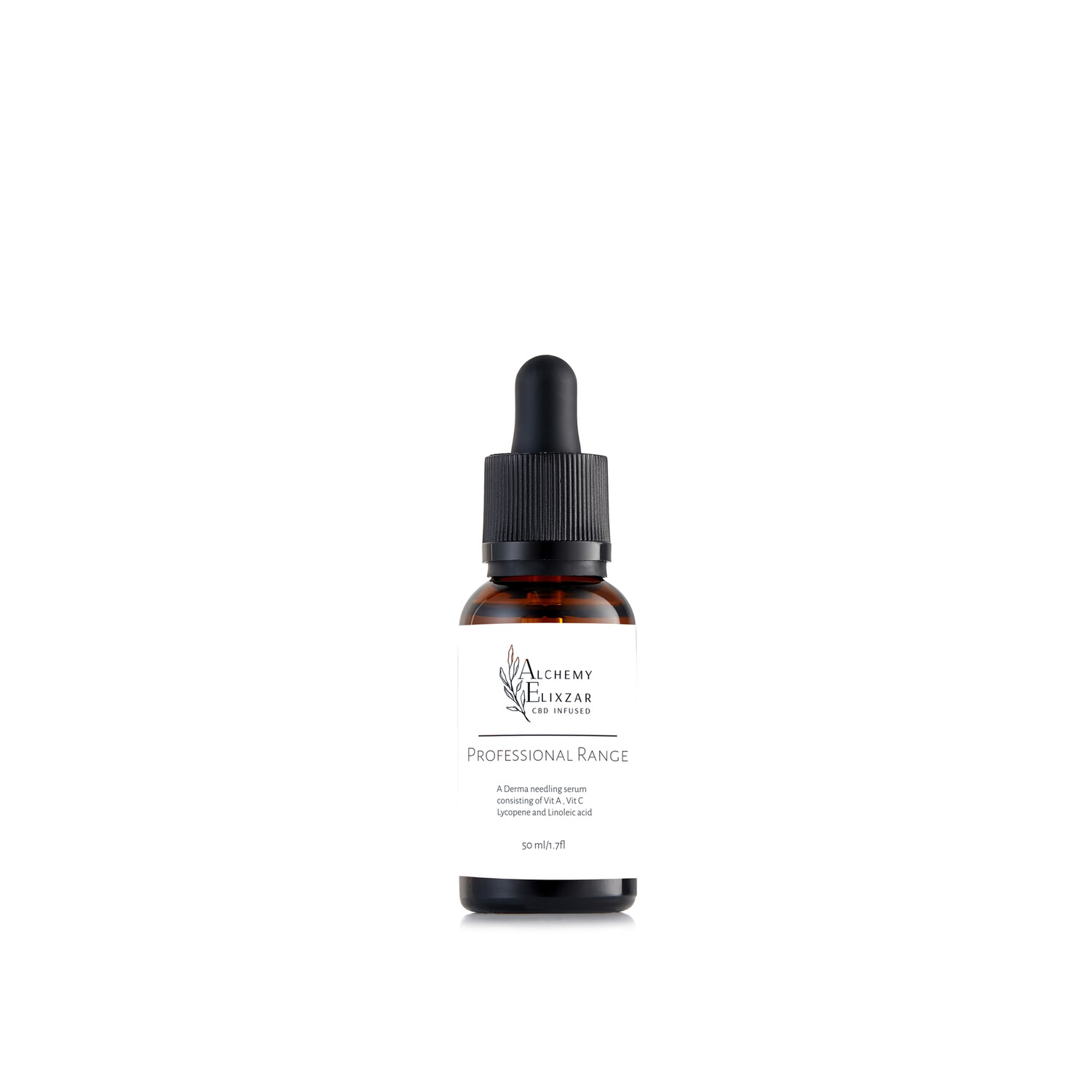 Derma Needling Serum - 50ml
SKU 00013
Product Details
Details:
This lightweight serum penetrates deeper to deliver vitamin-rich properties into the skin. The combination of ingredients creates a powerful cocktail to boost collagen whilst needling and assist with post-procedure inflammation.
Why is it so effective?
CBD oil has anti-inflammatory properties that can benefit the skin by reducing oil production, provide moisture, and relieve pain and itching.
Vitamin A is known to reduce the appearance of acne scarring and wrinkles. Beta-Carotene an antioxidant helps protect from the sun as well as improves skin elasticity and thickness.
Vitamin C a powerful antioxidant that protects skin against environmental stressors that can cause dryness, fine lines, and wrinkles. Vitamin C also stimulates the synthesis of collagen.
Vitamin D helps skin cell growth, repairs, and boosts immune function. It also helps destroy free radicals that can cause premature signs of aging. Vitamin D enables the body to properly absorb and use calcium as well as promotes healthy and rapid healing of the skin.
Vitamin E helps treat scarring, stretch marks, and wrinkles and helps calm and rehydrate sensitive skin as well as improves the efficacy of active sunscreen ingredients.
Lycopene helps improve skin texture and protects against premature aging. Lycopene is a powerful antioxidant with many health benefits, including sun protection. Omega 3, 6 & 9 helps repair and regenerate damaged skin tissue.
Vitamin F (Linoleic Acid) is one of the most effective ingredients in skincare, strengthening the skin's protective barrier while providing excellent moisture and "plumpness" without weighing down the skin. It fortifies and protects the skin's barrier, thereby helping to fend off UV rays and air pollutants such as smoke, both of which cause free radical activity that can result in wrinkles and signs of aging. It also lightens sun-induced hyperpigmentation.
Vitamin K is essential for healing wounds and bruises. Your blood needs vitamin K to be able to coagulate and clot. Topical applications of vitamin K can minimize spider veins, dark circles, stretch marks, and scars by strengthening capillary walls.
Jojoba oil is full of nutrients like Vitamin E and B, as well as antioxidants and minerals like chromium, copper, and zinc, which all nourish and protect the skin. It Soothes Dry Skin is Non-Acnegenic and Deeply Hydrating.
Rosehip oil is Anti-Aging, assist with stretch marks, Increases cell turnover addresses sun-damaged skin.
Neroli along with its regenerative qualities, neroli oil is also antiseptic, antibacterial, anti-inflammatory, and pain-relieving. Many experts agree that neroli oil is the best for tightening the skin. That's because it contains Citral, a component known to regenerate skin cells. In addition, neroli oil helps to improve skin resilience, giving it awesome anti-aging properties.
Suggested Use:
Apply 2 - 4 drops to clean skin Pre and Post needling treatment.
Ingredients:

Squalane, CBD Oil, Vitamin A (Retinol), Vitamin C, Vitamin D, Vitamin E, Lycopene, Vitamin F (Linoleic acid), Vitamin K, Jojoba Oil, Rosehip oil, Neroli, Grapeseed oil
Product details:

Cruelty-free
Internationally laboratory tested
Vegan
100% of ingredients are from natural origin
Sustainable sourced
Free from:
Alcohol-free
Gluten-free
Soy-free
Sulfate-free
Paraben-free
THC
Patch Test:
We strongly advise that you take a skin test 48 hours prior to use on the inside of your arm. If you have not taken a skin test when commencing the use of the new product and an adverse reaction occurs Alchemy Elixzar will not be held responsible.
Save this product for later
Made in South Africa. Please take caution when traveling with your CBD products internationally.