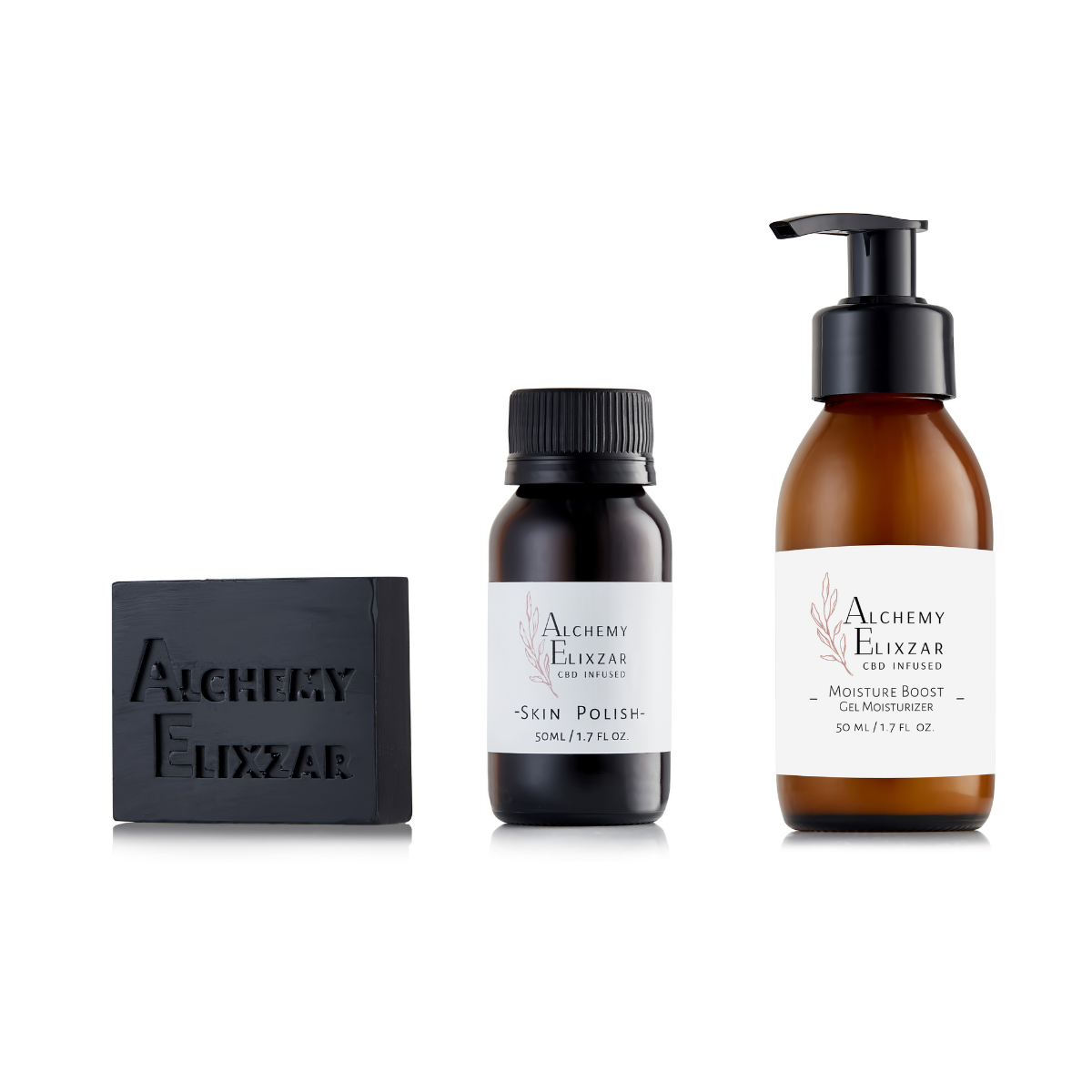 Skin Glow Starter Kit
SKU SGST01
Product Details
The perfect starter kit for any Alchemy Elixzar newbie, ideal for combination, oily or acne prone skin.
Facial Cleansing Bar
What is it?
The rich emulsion of this luxurious face bar leaves your skin feeling refreshed and pampered. Surprisingly soft, our individually crafted bar lathers instantly and results in clean, conditioned, smooth-as-silk skin.
Why we love:
CBD isolate - Anti-oxidant and anti-inflammatory properties
Leaves the skin feeling soft and smooth
Designed to extract toxins and deep cleanse pores, effective for blackheads or dark blemishes. Suits all skin types and condition
Key ingredients:
CBD isolate – known to soothe and nourish the skin, fight inflammation

Activated charcoal - deep cleanse skin, get rid of toxins,

Tangerine - uplifting and calming, known to help with oily and acne-prone skin
Application:

Work bar into a lather with a little water and apply directly to the skin. Apply daily for an indulgent and detoxifying facial experience.
Ingredients:
Aqua, Glycerine, Stearic Acid, Propylene Glycol, Caprylic/Capric Triglyceride, Sodium Laureth Sulphate, Sucrose-refined, Sorbitol, Sodium Palm Kernelate, Titanium Dioxide, Activated Carbon, CBD Isolate (Cannabidiol), Salvia Sclarea (Clary sage), Citrus urantium (Neroli), Citrus reticulata (Tangerine)
50g Skin Polish

The combination of ingredients in our skin polish instantly brightens and softens to reveal a glowing, visibly smoother complexion. A gentle exfoliant for supple, revitalized skin.
Why is it so effective?
Triple action - Exfoliating, Detoxifying, and Rejuvenating.
Our scrub is a fusion of Activated Charcoal, Rice Flour, and Hemp Seeds, a combination of our most powerful, all-natural ingredients. Activated charcoal penetrates to deep cleanse whilst removing accumulated toxins.
Suggested use:
Apply the dry scrub to your hands and wet with a little water to form a generous paste. Gentle enough to use twice weekly.
Shake bottle to loosen up scrub before use.
Ingredients:
Activated Carbon (Activated Charcoal), Oryza sativa (Rice Flour), Cannabis Sativa (Hemp)
50ml Moisture Boost Gel Moisturiser
What is it?
Rejuvenate tired, dull skin and renew your skin's youthful glow with our Moisture Boost Gel moisturizer. Our Gel facial moisturizer instantly calms and soothes the skin, encouraging a more radiant complexion whilst improving texture and reducing the visibility of fine lines.

Why we love:
CBD isolate - Anti-oxidant and anti-inflammatory properties
Rich in amino acids, Hyaluronic Acid and Rosehip oil, it contributes to a soft and smooth skin that is hydrated, nourished, and rejuvenated
It is like a drink of water for the skin, reducing the appearance of wrinkles and fine lines, leaving behind a youthful, dewy glow.
Key Ingredients:
CBD isolate – known to soothe and nourish the skin, fight inflammation and antibacterial
Aloe Ferox - 20 times stronger than the Aloe Vera plant and contains about three times more essential amino acids
Rosehip Oil - packed with beauty essentials like anti-inflammatory fatty acids and Vitamin A and C
Hyaluronic Acid – helps provide hydration by locking in moisture resulting in a plumped up skin, makes it an efficient skin moisturizer
Application
Apply the nourishing formula daily to cleansed skin. This product can be used in the mornings and evenings.

Ingredients:
Aqua, Aloe Ferox, Glycerine, Caprylic/Capric Triglyceride, Stearic Acid, Glyceryl Stearate, Cetyl Alcohol, Carbomer, Polysorbate 20, CBD Isolate (Cannabidiol), Rosa canina L ( Rosehip oil), Hyaluronic Acid, Phenoxyethanol, Ethylhexylglycerin, Salvia Sclarea (Clary sage), Citrus aurantium (Neroli), Cymbopogon citratus (Lemon Grass), Tetrasodium EDTA


Product details:
• Cruelty-free
• Internationally laboratory tested
• Vegan
• 100% ingredients are from natural origin
• Sustainably sourced

Free from:
• Alcohol-free
• Gluten-free
• Soy-free
• Sulfate-free
• Paraben-free
• THC


PATCH TEST
We advise that you take a skin test 48 hours prior to use on the inside of your arm, if you have not, and an allergic reaction occurs, Alchemy Elixzar will not be held responsible.
Save this product for later